What is a smart poster ?
A smart poster is a poster which has built in technology allowing a reader to interact with it using a smart phone. In general terms, the technology could be a QR Code, BLE (Bluetooth Low Energy), NFC or something else. However, because we are Seritag, this article will focus on creating an NFC or QR Code enabled smart poster.
Smart poster use cases
The most obvious reason to make your poster smart is to allow a user to instantly and easily get access to more information. For example, if the poster is advertising an event such as a music concert, then the 'smart' interaction can allow mobile users to get schedules, directions to the event or book tickets.
Nobody likes typing a web address into a mobile browser and doing a search might not pull up the right results. A quick scan of an NFC tag or QR Code built into a smart poster can direct the user immediately to where they need to be.
Which is the best NFC tag for a smart poster ?
We suggest using a larger 38mm or credit card size tag with an NTAG213 chip. Our 48mm x 78mm clear NTAG213 or 38m white NTAG213 tags are ideal.
Let's break this down into the chip and the tag. For almost all smart poster use cases, you will likely link to a web address. That might contain for example audio, video, a downloadable pdf or a web page. In these use cases, a standard NTAG213 is going to give you all the memory you need and a great scan distance performance as well.
For the tag, you want to go as large as you can fit up to around credit card in size. There's not much point going much bigger in tag size that this because the scan performance with a mobile reaches a limit. More than anything here, you want a high quality tag as the scan distances between quality tags and poor quality tags vary a lot. A poorly made tag might have the right chip and the right size but if it's badly tuned then the scan distance will be low.
How much will it cost to make a smart poster ?
If you already have a website then it will cost very little. Adding a QR Code will clearly cost you nothing at all.
If you are adding an NFC tag, you print your posters as normal and add some artwork to the front to show users and encourage users to interact with their phone. Then you buy some NFC tags from Seritag either encoded or blank so you can encode them yourself.
A small batch of tags will cost you 20 pence / 25 cents per tag with encoding to link to your website. You then simply attach them to the back. Done. You have created a smart poster for well under a pound/dollar per poster.
If you need to get a QR Code, then this is easily done from many websites on the net or via our Ixkio tag management system.
How to change where the smart poster links to
In many cases, the tags will link to something directly related to the poster which isn't likely to change. For example, it might be tickets for a single event, a product or perhaps a map.
However, if the link might change during the life of the poster, then it's best to use a tag management system. In this case, the tags are encoded to link to a tag manager which then allows you to change where the tags are redirected to.
Seritag run a tag management system called Ixkio, which has a low cost entry level for simple redirects. The tags would be encoded to link to Ixkio and locked to stop people messing with them. Then, you would log in to Ixkio to redirect the user to your website and can change this whenever and as often as you want. The user doesn't see the redirect. It happens almost instantly.
How to place the NFC tags
You have two options. On the front, or on the back.
If you put them on the front, then you probably need to do one of two things. Either get the NFC tags made up with special graphics so they look good. You want to clearly indicate to the users where you want them to place the phone to scan the tag. Seritag can provide custom printed labels in any quantity for this purpose.
Or alternatively, you can purchase a thin, plain NFC tag such as our 48 x 78mm clear NTAG213 or 38mm clear NTAG213. Attach it to the front and then place another normal sticker over the top. This two part process can be more effort but the end result is the same as the custom printed labels. Avoid using any metallic inks or foil print on your overstickers as it may interfere with the performance of the tag.
If you put them on the back, then just print your posters with a 'call to action' on the front and place the NFC tag on the back of the poster directly behind it. Quick and easy.
NFC tags will scan through the paper (or plastic) of the poster and can be scanned from the front. This way, the front of your poster will look clean and neat but be smart and clever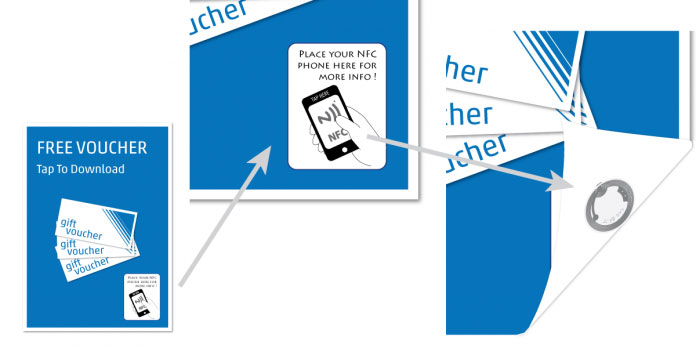 NFC Posters placed on metal surfaces
Normal NFC tags do not work directly on metal surfaces. There are special on-metal NFC tags but you need to be careful using them as they have a back and a front. If you stick an on-metal tag onto the back of your poster as described above, then the special ferrite barrier material will be facing forward and it will block people from scanning.
There are four solutions. The first, easiest and the one Seritag would recommend is to use a normal NFC tag but to create a gap. Ideally, you need a 5-10mm+ gap between the tag and the metal. Attaching a bit of foam behind the tag to push the poster away from the metal is an easy and cheap way to do this.
The second option is to use a on-metal NFC tag and attach it back to front using glue/tape rather than the adhesive that comes with the on-metal tag. You need the black ferrite barrier material facing the metal and the white face of the tag facing the front of the poster.
The third way is to stick the on-metal tag on the front of the poster which will not look good.
The fourth is to use a special 'reverse' on-metal tag which will cost a fortune and have a shocking scan distance performance as the ones on the market now are mostly made with very poor quality materials.
For smart posters to work effectively, you need to make sure the NFC tags can be scanned quickly and easily. You need the best scan distance possible. On-metal tags have a very low scan distance and as such, Seritag generally recommend not using on-metal tags on smart posters unless you really have no other choice. Using regular tags and creating a 'gap' instead of using on-metal nfc tags is often a better way to do things.
Where to place smart posters
Let's be clear. Not many people like to stand in front of a poster waving their mobile phone. Seritag have lost count of the number of customers that use NFC tags in open public spaces and then are surprised by the lack of response.
Therefore, consider where the poster is and where the user will be when they scan it. Obviously, you don't want to hide your poster - that wouldn't make much sense. However, for example, if you are adding a poster to a notice board then placing it towards the ends or lower down might encourage more people to interact.
Seritag have worked with a large number of bus and transport companies over the years. The response rates from adding tags to large posters on a bus shelter is extremely low. By contrast, smaller posters or tags placed next to the seats or within the timetable poles achieve great scan rates. Same bus stop, same user base, just a different location.
Increasing the scan area
You can't increase the scan distance of an NFC tag. However, NFC phones have a 'hot spot'. This is an area on the back of the phone that responds the best to an NFC tag. On most modern smart phones which are quite big, the hot spot can be relatively small. Therefore, some users will wave the phone around trying to scan the tag. This isn't always a very good user experience.
So, while you cannot increase the scan distance of NFC tags you can increase the active area by using more tags. This means that the user doesn't need to be so accurate in placing their phone and the result is that the poster feels more 'responsive'.
To do this, you can create an array of tags placed next to each other in a triangle or even bigger. The tags can be right next to each other but make sure they are not overlapping each other. For best results on this technique, customers have found placing the tags about half a smartphone's width apart works best.
In reality, we aren't completely sure that this technique works very well. Some users like to and some don't. What is crucial is making sure that the graphics indicating where the user should place their phone are clear and that the tags and graphic are well aligned.
NFC smart poster call to action
This is everything and will make all the difference to the success of a smart poster campaign. The call to action is the text or graphics that you put on the front of the poster to encourage people to interact. And this is where so many people get things wrong.
We are going to put together some information on this shortly but for the moment, let's keep it simple. You need three things.
First, an NFC logo or image of some kind. One way is to use the official NFC Forum N-Mark logo but have a read of our page on NFC logos and icons to see which one might work for you. Importantly, always use a logo with the letters 'NFC'.
The second item on your call to action should be a picture of a mobile phone. You need this. Without a phone, your response rates will be substantially lower. This doesn't need to be fancy. A simple mobile phione icon will do.
Then finally, you need to add a small amount of text. Seritag recommend something like 'Touch your NFC enabled phone here for more information.'.
With these three elements, you have told the user exactly what to do and why. It's that simple.
Tracking smart poster scans
The easiest way to get started is to link your smart poster directly through to your website. However, the next stage is usually to try and understand how many people responded and why.
If you are using a tag management system, such as our Ixkio system, because you want to be able to change the link of your tags in the future, then you'll get some core scan stats.
However, to get full stats, the easiest way is just to add Google Analytics on your website and encode the tracking URL directly into your tags (or via the tag management system). We are going to add some more information on how to do this at a later stage but a quick search on Google link tracking will get you started.
You can encode the tags yourself or just ask us to do this for you. Each tag can be encoded with a unique link so you know how many different posters have been scanned (even if they all go through to the same page). We can even print a unique ID as well onto each tag as well as encoding so you can match each scan data to a specific poster.
If you can't use analytics software or don't want to use a specific tag management system, then a simple redirect option such as bit.ly or goo.gl will allow you to track basic click counts. Redirect through to your website and encode the link onto your tags.
Final note
If you encode a link onto your tags (or get them encoded by Seritag) and you put the tags in a public space, then lock the tags. If you don't, then anyone can change the link and redirect all your smart poster visits somewhere else.