What is Circular Economy?
The Circular Economy is a system that focuses on reusing products and materials rather than producing more that will eventually end up in landfill. The aim is to reduce production, reduce waste and use what we currently have. We create billions of tons of waste each year. However, many companies are making a conscious effort to reduce and reverse this.
Every second, one truckload of clothing is landfilled or burned.
In the early 2000's fast fashion changed the way we consumed. There was a demand for next day delivery, cheaper clothing and having the most up to date style. This is not sustainable. It wastes millions of gallons water to make new clothing, the people that create these items are given poor wages with below standard working conditions and often the end products (and raw materials) are shipped across the world, creating pollution. People are more aware of this situation and are focusing on buying better, buying less and wearing more frequently.
Circular fashion is a term used to define items of clothing produced within a more considered model, from how the product is made, right the way through to the end of its life. People are now making a conscious effort to buy 'pre-loved' items from companies such as eBay, Vinted and Depop. Buying second-hand items, recycling and fixing damaged pieces are all changes we can do to help.
How can NFC help the Circular Economy?
We have noticed a substantial increase from brands, businesses and start-ups interested in using NFC in clothing and accessories. Brands big and small are wanting to create smart wearable clothing. Some of the main use cases are identification, authentication, marketing and product information and traceability. There are two types of NFC tag, standard and authentication. Standard NFC tags just allows you to store a weblink and lock the tag. These tags can be copied to other tags with a mobile phone however, if you're using these for marketing, re-ordering information or more information about the product, this shouldn't be an issue. Authentication NFC tags cannot be copied, they create a new code on every scan that is then verified using a third party server. These tags are used to ensure the product you are buying is genuine or to be able to trace who has previously owned the item.
NFC tags can help to trace a products journey and their lifecycle. There are companies that rent designer handbags to customers for occasions which is cheaper than buying one just to be used once. Authentication NFC tags can be hidden within these handbags to ensure that the correct handbag is returned.
NFC tags can also be linked with the blockchain. The blockchain is a database that stores data into blocks and are linked together. For example, when you scan the NFC tag on the physical item, this then links to the digital item and all the information associated with its lifecycle such as when it was made, who has previously owned it etc. This can be done via a tag management software, such as ixkio.
Which NFC tags can I use?
There are a few types of NFC tags that can be used in garments. Button Laundry tags can be sewn directly onto clothing or other garments. They are very durable and can be reused.
Seritag also stock a range of Disc tags in different sizes and materials. These can be attached to garments, shoes, handbags and other fashion items within a pocket and can be easily removed from the attached product and reused into the next one.
Another option is Garment Spec labels which are a strengthened version of 29mm clear NTAG213 label. They can withstand flexing and domestic wash and dry cycles and have a lifespan of around 10 years. We encourage customers to place garment labels behind sew on patches so they can be easily detached at the end of the products lifecycle.
Iron-on garment spec labels can also be used within garment products. We recommend testing these tags to make sure these work with your products. These can be peeled off the product in order for the product to be recycled. All of our products can be made with the authentication NTAG424 chip.
Companies using NFC
One company leading the way is Thousand Fell. They have created fully recyclable vegan shoes from natural materials including aloe vera, coconut husk and palm leaf fibres. These shoes create zero waste making Thousand Fell a closed loop system. Currently, 97% of shoes end up in landfill which is clearly not sustainable. Thousand Fell use NFC for marketing purposes, linking customers to their SuperCircle page to show people how to recycle items and earn credits.
Verlan is a French company that focuses on the traceability of each item they create. Certificates are sold alongside an item so when it's time to resell your item, the next person can see who has owned it previously. Verlan holds minimal stock as they create their clothing through a pre-order system, so they can roughly know how many products to make. They also don't follow the fashion calendar. There is not a new spring/summer collection every year as they don't want to feel pressured to make unnecessary items. Verlan included NFC labels in their products which were hidden behind a sew-on patch.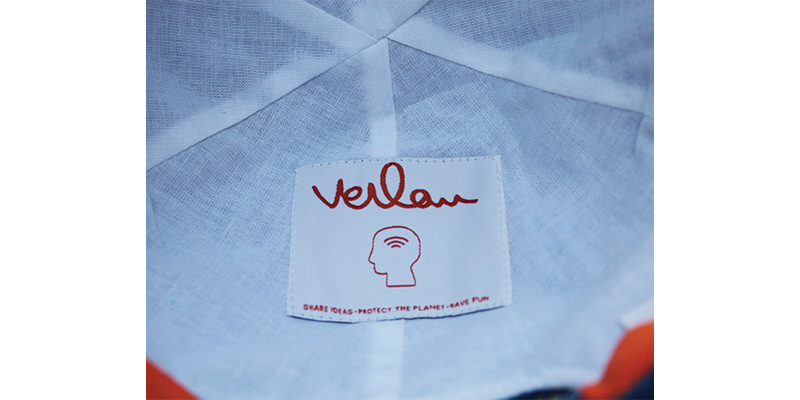 Seritag have a growing range of Garment NFC tags that can be placed in clothing, shoes and other garment pieces. These include standard and authentication tags in the form of labels, buttons, iron-on labels and disc tags. If you're not sure exactly what you need, you can purchase our popular Garment Tag Starter Pack which includes all of our NFC garment products.
If you have a project or are interested in using NFC in your items, contact us!