There's nothing new about luxury brands seeking out something exciting and cutting-edge to stand out in the marketplace and achieve uniqueness. Afterall, acquiring new customers and, indeed, retaining existing ones is an ongoing challenge that all brands face.
However, the direction that some famous names have taken in recent years is a particularly technologically advanced one. Rather than looking to unusual designs or out of the box marketing strategies, they have turned to the digital world instead.
NFTs or Non-Fungible Tokens, to give them their full name, are the latest trend that luxury brands have adopted in an attempt to increase customer engagement. By harnessing the power of these digital blockchain-based certificates, they are aiming to give their customers immersive and unique experiences.
Top Brands And The NFTs Market
In order to understand the benefits that NFTs can bring to leading luxury brands, it is key to know what Non-Fungible Tokens actually are. NFTs are digital blockchain-based certificates that can be used for verifying the ownership of videos, online artwork, and other digital assets. Unable to be copied, NFTs can reduce the ever-present problem of counterfeiting while also creating exclusivity and reaching a wider audience.
According to Forbes, the NFTs market has expanded significantly in recent years, and is now worth more than $40 billion in 2022. It's clear, then, that as luxury brands continue to move into the digital space, NFTs can increasingly become a substantial source of additional revenue.
The idea of harnessing the power of NFTs is to build up a community of likeminded individuals with an interest in and loyalty to the brand. Many luxury brands have begun to offer their NFT owners exclusive access, freebies, and additional experiences as an attractive incentive to persuade their customers to buy, allowing them to showcase their purchase not only in the physical world but also in the digital one.
Creating a 'digital twin' by connecting the physical with the digital
Many people who purchase luxury items today spend an increasing amount of time online inhabiting digital worlds, so it's only natural that they would want to showcase their branded purchases virtually. When they buy a real-world item, an NFT gives them a digital twin that allows them to also own it within the virtual spaces that they inhabit.
The NFT Luxury Brand Market In Practice
Some of the biggest names in the luxury sector have jumped at the chance to enter into the NFT marketplace. Gucci and Burberry, for example, have partnered up with the global online virtual universe and game Roblox. The Gucci collaboration resulted in the virtual Luxuo garden experience, while Burberry's partnership resulting in a virtual handbag.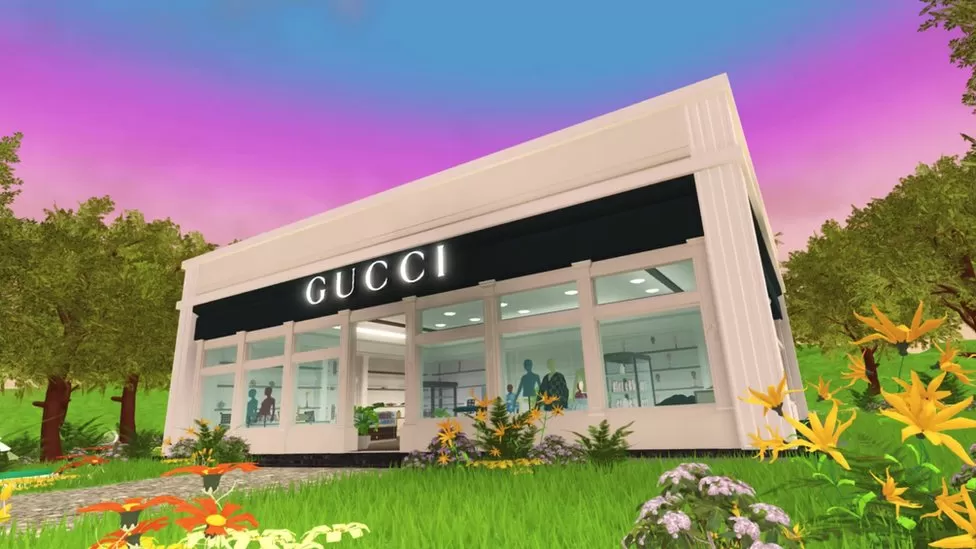 One of the biggest online games, Fortnite, paired up with Balenciaga to create outfits that avatars can wear, while Dolce & Gabbana formed a collaboration with UNXD to design NFT items of clothing, resulting in a collection that sold for an impressive $6 million.
One particularly exciting and unusual immersive experience was created by Louis Vuitton to celebrate its late founder's 200th birthday – no less than 200 different virtual worlds within which 200 candles were hidden along with hidden NFTs to find on the way. The idea behind all of these offerings is to encourage customers to engage more with the brand, retain their loyalty, and return again for future purchases.
The Counterfeit Threat
The luxury market has long been vulnerable to the problem of counterfeit goods. According to the Guardian newspaper, around $600 billion of fake goods is traded every year, and this poses a significant threat to the reputation of the affected brands.
The impact on brand value of counterfeit goods can be long lasting
Fortunately, there's a way of overcoming this issue – attaching NFC authentication tags to physical products. NFC authentication tags hold a key that is then used to create a unique code with each scan. That unique code is verifiable on the server, providing confidence in the confirmation that the NFC authentication tag is, indeed, what it purports to be, therefore affirming that the object to which it's attached is genuine.
When NFC tags and NFTs work together in unison, they can help luxury brands protect their items from counterfeiting across both the physical and the digital. They can attach an NFC tag to the physical item which links to the NFT of a digital item. Essentially NFC tags secure the physical assets while NFTs secure the digital assets – something that is known as digital twinning.
As the luxury market moves forward in new directions, NFTs are likely to become even more entwined with branded products. It has been predicted by Morgan Stanley that the NFTs market may reach a value of $56 billion within the next decade and as the Metaverse is expanding, it's clear that more elements of daily life will move online.
There will, almost certainly, be an increased demand for digital luxury goods and fashion over the next few years and, with this increased demand, the need for greater protection against counterfeiting will also rise.
NFC authentication tags are the perfect partnership for NFTs, bringing them the protection they need to give the purchaser the peace of mind they seek that not only is their physical asset genuine but their digital one too.