It's taken a long time to get to this stage but with the release of the iOS 14, Apple have added the missing piece of the puzzle. Finally, every iPhone and Android phone (that has an NFC chip inside) can now natively read NFC tags without an App (see note below on iPhone SE 2020).
How to enable NFC Scan Mode on the iPhone
You can now view our how to scan NFC tags with iOS 14 video.
Simply open the Control Centre, click on the NFC icon (four brackets) and hold the top edge of the iPhone over the NFC tag.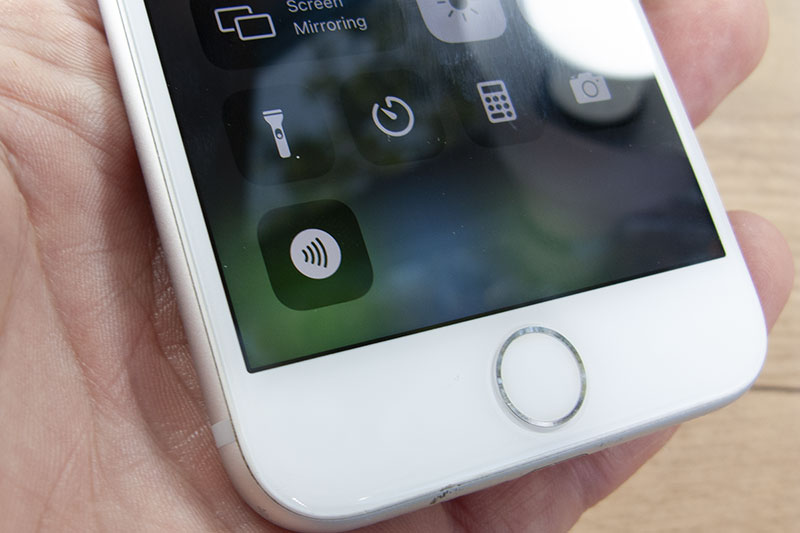 Tag requirements
First, the NFC tag must be encoded. Unlike Android which will read the tag and tell you it is empty, the iPhone will do nothing unless the tag has already been encoded (written). You can encode NFC tags with an iPhone with an App, use an Android phone with an App or get Seritag to encode the tags for you.
iPhone requirements
The iPhone 11, Xs and Xr already had 'background tag scanning'. Which means that they already had the ability to scan NFC tags and also didn't require any user action to do so. Users of these phones can just hold the top edge over a tag and it will automatically respond.
Previous to the release of iOS14, users of the iPhone 7, 8 and X were required to download an App to scan NFC tags. With this latest release, NFC tags can be scanned straight from the Control Centre and an App download is no longer required.
Users of iPhones 6 and earlier cannot scan NFC tags with or without an App so the latest upgrade doesn't apply.
iPhone SE 2020
November 2020 Update : Seritag are currently aware that users of the iPhone SE 2020 upgrading to iOS 14 will not find the additional NFC icon in the Control Center. At this stage, we are not sure whether this is a bug or an issue relating to the hardware/functionality of the iPhone SE 2020. Users can still encode and read tags by downloading an App (NXP Tagwriter or NFC Tools) as previously.
Why this is important
For a large number of use cases such as access control, authentication, round management, asset management and so on, it's never been a significant problem that Apple phones didn't fully support NFC. However, for widespread consumer use, NFC was never going to take hold without the iPhone. When Apple launched the iPhone Xr and Xs with background tag scanning this was clearly a step forward, but at the time, many users were still on older iPhones. While it was it possible for the older phones to scan tags, realistically an App download creates a significant barrier.
The release of iOS 14 and the inclusion of a native NFC tag reader changes this. From now, users will be able to scan NFC tags from the iPhone 7 onwards without any additional requirements. This opens up a substantial market for NFC in marketing and product tagging.
In addition, it also increases awareness. Many users may never have been aware of NFC but will now start to see the new icon and discover how NFC and scanning NFC tags might help them. It might be scanning an NFC tag to view a contactless restaurant menu or tapping a tag in a shop window to see details of a job or a property. Or perhaps scanning an NFC tag in clothing to see it's history or a tag in a product to download an instruction manual. All these use cases become easier to implement with native tag reading.
The change of logo
There's rarely a week that goes by at Seritag where a customer will ask us which NFC icon or logo should be used. In many cases right now we recommend the Seritag NFC icon or the standard three bracket icon.
If you scan an NFC tag on an iPhone you will be prompted as to whether you want to follow the link. Within the prompt, Apple decided to use a three bracket icon (rather than the perhaps 'standard' NFC Forum icon). We thought this interesting but not altogether suprising. It's obvious and clear.
However, for some reason, Apple have switched to a four bracket icon on the screen for the built-in NFC tag reader. The four bracket 'Contactless Indicator' version is a trademark of EMVCo. In fact, even on iOS 14, the four bracket is used on the 'Scan Mode' screen and the three bracket is used on the icon on the security prompt pop-up.
One thing is sure. The sideways bracket designs seem to be winning the NFC identification battle and the NFC Forum N-Mark would appear to be gradually, but very clearly, losing.