This article focuses on compliance regarding fire door regulations, what checks need to be carried out by the responsible persons and how NFC technology can help. The UK government website has stated that from the 23rd of January 2023, it's a legal requirement for the responsible person for multi-occupied buildings over 11 metres to:
Carry out quarterly checks of all fire doors in communal areas
Carry out annual checks on all flat entrance doors
Provide information to residents about the importance of fire doors
The responsible person should be able to check for and identify any obvious issues with fire doors, such as broken closers. Professional help should be acquired for a comprehensive inspection or a fire door replacement. For a door to be called a 'fire door', it must undergo a series of tests. This includes stress simulation and the doors being lit on fire.
A fire door should hold back fire for a minimum or 30 minutes, some even longer.
The British Woodworking Federation (BWF) works closely with the Fire door alliance and third party manufacturers. These members are able to certify the doors after they have undergone the fire door tests and note if they have or have not met the regulation standards.
Why is it important?
There have been multiple occasions where lack of tests and management of fire doors have caused catastrophic incidents. For example in 2017, Grenfell Tower in London caught fire due to a faulty fridge on the fourth floor. The fire spread rapidly throughout the whole building block, taking the lives of 72 people.
The residents had been complaining years before the incident that fire doors in the building were broken and had parts missing. Nothing was done despite the local authorities having billions of pounds to spend. Police then revealed after the incident that the fire doors did not meet the legal minimum standard of 30 minutes, the fire doors in the building were not the same doors that were tested by the manufacturer before the sale and the fire doors were not tested to smoke standard.
Six years later, the Government changed legislation to quarterly checks and to hold people accountable.
How NFC can help with compliance
Currently fire safety assessments are often being completed with pen and paper. This makes it difficult to prove that the user had physically moved from their desk and checked each fire door is compliant. To ensure that people are completing the compliance checks at the correct times many companies have turned to NFC technology (What is an NFC tag ?).
With NFC tags attached to each fire door, the user would be required to walk around with their mobile phone and actually scan each tag in place. This can show real-time data of who physically scanned the NFC tag and when. According to Vision Pro Software, adding these NFC tags has proven to be 'a game changer in risk management'.
Fire door manufacturers are now placing NFC tags into the doors that they produce. This is so that when a door is scanned, the whole history of product specifications, materials and certificates are available to hand. NFC tags are also being used by the people who install the fire doors. This ensures there is a log of who fitted the door, when it was fitted and all the regulations were met.
Finally, the maintenance of the fire doors is also monitored through NFC. These NFC tags are being placed into the hinge side of the door, this is to reduce tampering. These tags can be in the form of an NFC nail tag, small NFC disc tag or NFC label.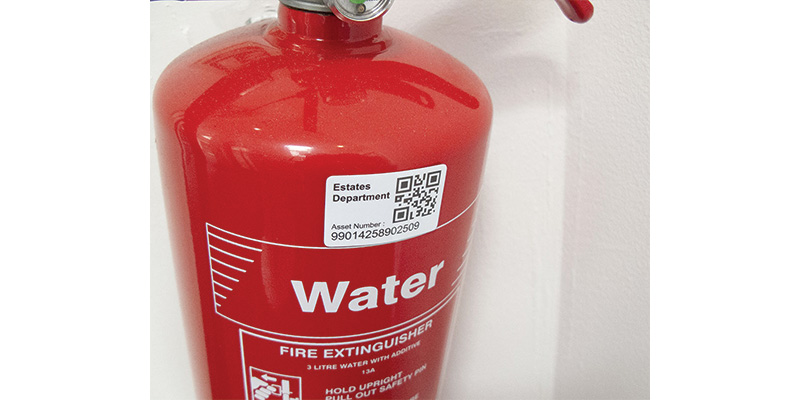 Some companies such as LFS and Ace Construction are using NFC labels to manage their fire doors. These companies have their own software systems to report a potential issue with a fire door or to prove a compliance check has been made. NFC is a simple technology that if used correctly in partnership with compliance checks, could save peoples lives. These tags are easy to scan with a mobile phone, they can store a digital log of the entire history of the door and provide physical proof that checks have been made.
In summary, NFC can :
Reduce the paperwork burden
Ensure physical checks
Provide a traceable and accessible history
Store material specifications for the life of the door
Aid in fault or damage reporting
Fire extinguishers, smoke detectors and more
It's not just fire doors that need maintenance checks; fire extinguishers, smoke detectors, carbon monoxide alarms, emergency lighting etc all need monitoring. It's worth noting that some of these items are metal so would need on-metal tags placed on them. It's also possible to have NFC Asset Tags that include a QR code or ID Number. These tags can be used for round management.
Seritag provide a wide range of NFC tags that can be used for compliance or round management purposes. If you have a project similar to this, contact us!
Note : This article is written for the purposes of general information only regarding how NFC tags are and could be used to aid fire compliance. It should not be taken as professional advice with regards to fire safety, regulations or legal compliance. We strongly advise taking professional advice on these areas before undertaking any project. Fire safety should never be taken lightly.